Summers can be tough to deal with when it is 100 degrees outside. During this fine season, most of us crave light and refreshing meals. If you need clarification about what to eat for dinner this season that covers the above-mentioned aspects, look at these 61 simple 30-minute summer dinner ideas!
A wide range of cuisines offers food that is perfect for summer since they are hearty yet won't make you feel bloated. These delicious dinner ideas include fish tacos, turkey burgers, chicken patties, salmon burgers, and lettuce wraps.
No one would want to spend too long in a hot kitchen on hot summer days. But, at the same time, for most of us, getting takeout daily is also not the best option. In that case, the middle ground is to prepare healthy meals at home, which are simple. So, 30-minute summer dinner ideas may seem like the best approach.
Luckily, so many dinner ideas can be tried out, which can be ready in just about 30 minutes. More than that, these 30-minute summer dinner ideas are curated explicitly as per the season. They all use ingredients for the gut on hot summer days. So, without further ado, let us explore these easy options!
30-Minute Summer Dinner Ideas To Try
This is where the magic begins! In this section, you will find an elaborate list of delicious recipes that are good for the gut for summer and tasty. The range of recipes is endless, covering quite a variety of cuisines that most of us are familiar with. You will also find links for easier access and a little bit about each recipe. Now, let's explore!
1. Beefy Lettuce Wraps
This recipe for delicious wraps is like a collaboration between Indian and Mexican food. Although the wrap style may remind you of a classic Mexican staple, the flavors of this dish are pretty Asian.
When I first saw this recipe, I did not think it was a good fit for summer simply because of the spices used to flavor the beef. But replacing the tortilla or wrap on the outside makes a massive difference to the overall recipe!
Lettuce wraps make the whole meal pretty light and prevent the feeling of being too full. The other flavors that shine through are vibrant and summer friendly, like coconut-lime jasmine rice, and pickled shallots, crushed nuts, and herbs.
Make yourself this simple and tasty recipe by following this link.
2. Salmon Patties With Avocado Salsa
Fish or seafood is always the best option when you want something filling but not too much for the gut. Salmon is a classic and exquisite type of fish that many people love.
I bet you have tried salmon made in many ways, from grilled to smoked salmon. But have you ever tried salmon patties similar to any other burger patty? If not, you really should!
Making these patties is pretty simple since you must chop the salmon, mix it with a few ingredients and grill the patties. The avocado salsa is the true star of this dish due to its creamy texture and refreshing taste, which pair so well with the salmon!
Try this recipe out if you have never had salmon patties before.
3. Cucumber Gazpacho
Cucumber, indeed, is one of the most refreshing vegetables out there. They have a natural cooling effect and are often added to water. Gazpacho is a Spanish soup that is usually served cold. So, the combination of hard and cucumber is bound to work!
This gazpacho recipe is unlike a regular gazpacho recipe. This soup has a natural cooling effect, which is excellent for the gut on a hot summer day. Moreover, cucumber is not the only ingredient that makes this gazpacho as refreshing as it is!
The recipe is packed with flavors of fresh cilantro, lime juice, Greek yogurt, and sour cream, all of which have a natural cooling effect. If you want your meal to be more balanced in nutrition, you can also garnish the soup with grilled shrimp.
Whether you add shrimp or not, this gazpacho is bound to taste delicious!
4. Instant Pot Pulled-Pork
One summer tradition that is quite common around the world is a hearty and delicious barbeque. There may be quite a few days in the summer when you'd like to set up a full-blown barbeque, but it's just too hot outside.
Keep pursuing your hopes of enjoying BBQ pulled pork this summer, as you can easily make the same in an instant pot. The best thing about making anything in an instant pot is that you can just let the meat be, and you won't constantly have to be in the hot kitchen.
I know pork may sound like a heavy choice of meat on a hot day. But there is also the fact that nothing beats a good BBQ on a hot summer day. So, if you are craving those flavors, this recipe is definitely worth a try!
You can make this instant pot pulled pork by following this recipe.
5. Grilled Flatbread Veggie Pizza
On days when it is exceptionally hot, I prefer not to eat it all, which is unhealthy. So, that is when my mother suggested cutting out on meat and instead focusing on refreshing and straightforward veggie dishes.
Since I am not big on vegetables, it was challenging to find a recipe that I would love, and thank god I came across this one! This flatbread pizza recipe is not just light but is also very quick to make.
The best part is using as many store-bought ingredients as possible, from the flatbread to the sauce. The choice of vegetables for topping this flatbread pizza is also great!
Here is the recipe to make this simple.
6. Creamy Spinach Pasta
My family's go-to dinner meal for any day when we are not feeling too inspired is pasta. Well, we love pasta otherwise as well, but on hot days, the simplicity of the flavors in pasta, along with the easy cooking method, always makes it to our list!
But, even with pasta, not all recipes are summer-friendly. This one is because it has a specially curated ingredient list perfect for a humid day. The spinach adds a whole lot of nutrients, along with flavor.
The pasta sauce is not made with spinach but with butter, garlic, pasta water, and mascarpone cheese. Mascarpone cheese is creamy, light, and also has a rich flavor. You can also add some shredded chicken to this recipe if you'd like to add protein.
Make yourself this light and creamy pasta with this recipe.
7. Grilled Veggie Skewers With Halloumi
I had only tried halloumi cheese once I visited England for the first time. Halloumi cheese should be more famous back home. But, in England, they sell halloumi fries just as much as fish and chips.
Once I tried some crispy fried halloumi, I knew I had missed out on some awesome cheese all my life. Ever since, halloumi has been a staple in many recipes. This recipe, in particular, is one of the lightest and most versatile summer recipes that you would come across.
The recipe needs just a few ingredients: halloumi, some of your favorite vegetables, and a few seasonings. The vegetables I suggest are peppers, onion, tomatoes, and mushrooms, as they grill well. Once the skewers are ready, you can enjoy the veggies and halloumi as they are or even make some healthy wraps.
Here is the recipe to make this delicious vegetarian summer treat.
8. Vietnamese Spring Rolls With Peanut Dipping Sauce
I, for one, always associated Southeast Asian food with lots of sauces and flavors, and, in general, not something that I would define as a light meal. But then I came across the wonder that is Vietnamese food.
Vietnamese food focuses a lot more on using fresh ingredients and their natural flavors. That is precisely what this recipe does, which is why it gives significant summer vibes.
These salad rolls consist of rice wrappers packed with fresh ingredients like rice noodles, fresh vegetables, protein (shrimp in this recipe), and a few herbs. The peanut dipping sauce gives these rolls a zesty yet soothing flavor.
This recipe is your sign to try making Vietnamese food if you haven't before.
9. Corn Dogs
This classic American treat is not associated with a particular season, which is excellent! Whether boiling or ice cold outside, corn dogs will taste great no matter what! This is why they make a great summer dinner.
Corn dogs are something that only some of us prepare at home. Instead, the beauty of enjoying a corndog is getting a hot one from a food stand nearby. But, when it is too hot even to step out, and if you are craving corn dogs, you can easily make them at home in under 30 minutes!
This recipe for corn dogs is pretty straightforward. For the batter, you'll need your favorite sausages and some ingredients like cornmeal, milk, and a few seasonings. Enjoy these hot with a side of ketchup and mustard!
Making corn dogs at home has never been easier than it is with recipe.
10. Kale And Avocado Salad With Blueberries And Edamame
Is there anything more refreshing than a delicious, cold salad on a hot day? This salad may seem complicated because of the number of ingredients in it. But the result is so worth it!
The salad is also loaded with nutrients since it has all the ingredients rich in vitamins and minerals, like kale, avocados, and blueberries. The blueberries add a subtle tart flavor that you wouldn't have expected to work in a salad.
The salad dressing is simple: lemon juice, Dijon mustard, honey, and olive oil. There is also a creamy element to this salad: fresh goat cheese. The goat cheese adds a creamy texture and flavor to this crunchy salad.
Try this delicious summer salad with the recipe given here.
11. Skillet Neapolitan Margherita Pizza
Just like corn dogs, pizzas are not specific to any season. They can be enjoyed all year round. But having a meat extravaganza pizza on a hot day might not be everyone's cup of tea.
This margarita pizza recipe is perfect if you want to ditch getting takeout pizza and want to make a fresh one at home. All of it can be prepared in one skillet, and that too in under 30 minutes with a few cheat codes.
Firstly, using store-bought pizza dough will end up saving ample time. But you can also make homemade pizza dough if you would like to. Similarly, you could go for a store-bought pizza sauce, assemble the pizza, and let it bake for just about 15 minutes, which is it!
Homemade pizza is so different from takeout pizza, and recipe is proof of the same.
12. Chipotle Fish Tacos
These fish tacos are the epitome of summer flavors in one recipe. Fish tacos might not be everyone's favorite, and there was a time when I refused to even look at them. However, this recipe made me realize how light and delicious fish can be in summer.
These tacos are packed with classic Tex-Mex ingredients, like smoky grilled fish marinated with chipotle, garlic, cumin, and coriander. The lovely contrast of flavor is offered by freshly made peach salsa.
The peach salsa is made with peaches (of course), habanero chiles, lemon, and cilantro. If habanero chiles are too hot, switch them out for any milder chile. Similarly, you can add as many additional ingredients to this recipe as you wish, like sour cream and avocados.
Here is how you can make these simple and delicious tacos at home.
13. Chicken Shawarma
Did you ever think you could make this classic Mediterranean wrap at home in just about 30 minutes? Believe it or not, it is true! Shawarma may seem like a complicated recipe, but it indeed is not.
Don't worry; for this homemade version of chicken shawarma, you won't have to grill a pyramid of meat. Instead, this recipe requires marinating the chicken with some seasonings and spices.
Once that is done, you can bake the chicken till it is perfectly juicy yet a little charred on the outside. Slice the chicken into pieces, then serve on pita bread with some lettuce, tomatoes, cucumbers, spices, and a yogurt-based sauce!
Try making a chicken shawarma at home with recipe, and you won't be disappointed with the outcome.
14. Grilled Mushroom And Swiss Burgers
Whenever passing a drive-thru, the smell of freshly made burgers is exhilarating. It is almost as if you cannot say no to a good burger, and the apparent bonus here is if the burger is topped with a bunch of delicious toppings.
One such classic burger that is famous is a burger topped with grilled mushrooms. The flavor of umami mushrooms with a grilled beef and cheese patty matches the taste made in heaven.
Now, you can easily make this drive-thru special at home whenever possible! The burger, along with the mushrooms, Swiss cheese, and beef patty, also has fried onions at the base, which add a lovely crunchy texture to the burger.
Here is the recipe to make this special burger at home.
15. Ginger Pork Stir-Fry
Pork is not necessarily the epitome of light summer food since the meat can be heavy for the digestive system. But, if pork is made in a certain way, it can melt in your mouth and still make for a light and delicious meal.
That is exactly what this lovely Asian classic recipe is all about. This ginger pork stir-fry is not even close to being too heavy, as it has a minimal amount of rich sauces. Instead, this recipe has tender, citrus pork, some aromatic seasonings, and many delicious fresh vegetables.
The pork is sliced thinly, which makes the cooking process very quick. Other than that, the sauce base of this stir-fry recipe is made with a mix of orange juice, soy sauce, ginger, and garlic, which make the pork tender. Serve this pork alongside some fresh jasmine rice.
Get the recipe here.
16. Spaghetti With Fresh Tomato Sauce
Fresh tomatoes in summer are one of the best ingredients to work with. One of the reasons behind this is just how juicy, acidic, and flavorful these tomatoes are! Of course, making use of these tomatoes is a must in summer!
Here is a recipe to use those tomatoes in the best way possible. A freshly made pasta sauce with tomatoes tastes so different from a canned version or even a homemade tomato sauce not made with summer tomatoes.
Here, the flavor of the tomatoes shines through and makes this pasta dish taste as fresh and tangy as it does. Another significant aspect of this recipe is that it is healthy, and you can customize it to your liking.
Make use of freshly picked summer tomatoes with this recipe.
17. Pan Fried Lemongrass Chicken
Lemongrass, a commonly used Asian ingredient, is something that I was never willing to try. I couldn't fathom adding a type of grass, although aromatic, to food. But I tried lemongrass chicken, which changed my perspective of the "grass."
Ever since I have never referred to lemongrass as an ingredient I add to tea but rather as one of the most aromatic flavorings out there. This recipe is for pan-fried lemongrass chicken packed with the subtle flavor of lemongrass in the best way possible.
Although lemongrass remains the main flavoring in this recipe, a few other flavors are added to balance it out and make the taste manageable. These include simple pantry staples like pepper, cilantro, garlic, soy sauce, and oil.
Enjoy this lovely Asian dish with rice or just as it is! Here is the recipe for it.
18. Grilled Shrimp Pineapple Skewers
Although I am not as much a seafood lover, when craving a light meal on a hot day, my first preference is always something from under the sea. Unless you are allergic to seafood, especially shrimp, you'd know how light, filling, and delicious these little sea creatures are.
Skewers are pretty standard in Asian cuisine, so you may have guessed that the flavors for these skewers are inspired by the same. These skewers are made with a few simple ingredients, all of which have an independent taste, which also gels well with the rest of the flavors.
The ingredients used for this recipe are shrimp, and pineapple, which are the main ingredients, along with a few seasonings and flavorings. Here, use fresh pineapple to get the best flavor possible.
Get the recipe of these Grilled Shrimp Pineapple Skewers here.
19. Frittata With Asparagus, Leek And Ricotta
Many people prefer not to have eggs for dinner simply because they can be heavy. But I know many people enjoy eating eggs at night if made a certain way.
A great thing about a frittata is that you can make giant portions. So, that saves a lot of time. Moreover, this frittata recipe is indeed perfect for a hot summer day, as it has a lot of naturally cooling ingredients added to it.
The asparagus and leek added to this frittata give it a mild flavor, whereas the ricotta cheese makes it just the right amount of creamy. This recipe can be served alongside a light and hearty salad and a slice of bread to make it a balanced meal.
If you love eating eggs at night, you should try this exceptional recipe.
20. Crispy Fish
Speaking of light meals, how can I not add mighty fish to this list? Fish is one of the easiest things to make and also the healthiest form of protein out there. These factors make it a versatile ingredient, especially on hot summer days.
This crispy fish recipe is also baked and not fried, which makes it a healthier alternative to regular fried fish. However, even though the fish is baked and not fried, it has that perfectly crispy texture on the outside.
The fish fillet is first coated with a mixture of mayonnaise, Dijon mustard, salt, pepper, and cayenne pepper, all seeping into the fillet. Then, the fish is coated with breadcrumbs and baked, giving it a perfectly crispy bite. Serve this fish with a side salad, or make a sandwich with the same!
Here is the recipe to make this classic fish.
21. Summer Salad
The name of this salad itself suggests that this recipe will indeed be big, beautiful, and the perfect combination of classic summer flavors. This salad has the freshest ingredients you should enjoy around the summertime!
The ingredients added to this summer salad include lettuce, micro greens, and avocados. The salad is also packed with chicken, which adds a lot of protein and makes the salad more balanced.
The salad dressing is also simple, made with mayonnaise, shallots and many herbs. You can even switch the grilled chicken with any vegetarian protein if you would like, or add both proteins! This salad is also well balanced in terms of carbohydrates, as it is served with garlic toast.
This recipe is bound to taste delicious, like summer in a bowl, with chicken and garlic toast!
22. BBQ Beef Brisket Buns
I know there are better choices than brisket, just like pork, for a summer dish for many people, as it tends to be a little heavy. But again, just like the stir-fried pork dish, the way this brisket is made makes it a summertime favorite recipe.
Summers are meant for barbecues, so it is the perfect season to enjoy just about anything BBQ flavored. This recipe is also a time saver, as you don't need to prepare your brisket at home.
Instead, you could use some deli-bought brisket. But the recipe also has methods to make your brisket if you have the time and are interested. The brisket is drenched in BBQ sauce, and the crusty bread and spicy pickles all form a flavor medley!
Here is the recipe to make these quick and easy BBQ beef brisket buns.
23. Salmon Burgers
Earlier, we spoke about some delicious salmon patties, which may have made you realize just how versatile salmon can be. Now, let us take these patties up a notch and turn them into full-blown delicious salmon burgers!
We are all used to having burgers with some red meat. But salmon makes up for a much healthier counterpart for a classic cheeseburger. Salmon is also light, loaded with protein, and excellent overall for the body.
So, this meal is bound to be a hit! These patties are also perfectly crispy and can be made on the stovetop or air fryer. Coleslaw adds a contrast of flavor to the salmon. The salmon patty is also a perfect blend of flavors since the added herbs are manageable but not underwhelming.
This recipe is one of the best and healthiest alternatives to a regular cheeseburger.
24. Vermicelli Noodle Bowl
Another classic from Vietnam, this dish does complete justice to the simple yet intense flavors that Vietnamese cuisine offers. This recipe's use of vermicelli rice noodles proves that this one will be perfect for a light summer dinner.
Rice noodles tend to be much more filling and lighter for the gut to digest than classic egg noodles. But if you prefer egg noodles, you can also use those in this recipe. This noodle bowl is delicious and perfectly balanced in terms of nutritional value.
The noodle bowl is made with classics like cucumbers, peppers, spinach, and also some protein, which can be vegan, vegetarian, or non-vegetarian as per your taste. Lastly, the lemongrass marinade adds a lovely refreshing flavor, making the noodle bowl worth every bite.
Here is the recipe link to make this classic Vietnamese noodle bowl at home.
25. Okra In Yogurt Curry
This recipe is an Indian classic often eaten during summer, all because of the soothing effect that yogurt tends to have in hot weather. The yogurt curry is called 'kadhi' in India, and there are forms of this curry across the Indian subcontinent.
One such simple, quick, and delicious form of this curry is the recipe mentioned here. This curry may seem a little overwhelming initially because some ingredients are a little more specific to Indian cuisine.
But, lately, there is a wide availability of ingredients everywhere, so I am sure you'll find everything you need at any supermarket. This curry is best paired with steaming hot basmati rice, which makes for a soothing and comforting dinner.
Make yourself this Indian soul food by following the guidelines in recipe.
26. Grilled Hamburgers
Yes, the space in the name of these burgers is deliberate since these are hamburgers and not hamburgers. That means they are made with ham and not beef! So for anyone who loves pork, this burger is a complete piggy feast!
The burger patty is similar to a ham loaf in terms of flavor if you have ever had one. The cake starts with pork, ham, pineapple, juice, brown sugar, and even a little mustard for a sharp flavor.
The pineapple makes the meat tender and adds a lovely, slightly tangy flavor. The burger takes barely any time to cook and is topped with an arugula salad and some honey mustard dressing to enhance the flavor even further.
Here is the recipe to make grilled hamburgers at home.
27. Chicken Pad Thai
Whenever I visit a Thai restaurant, I always order Thai pad noodles regardless of the month or season. These noodles are pretty delicious, and adding some protein to them, like chicken, also makes a bit of pad Thai nutritionally well-balanced.
This recipe for chicken pad Thai will be ready in no time, and the best part is your kitchen will smell amazing once you are done! You can make a homemade Pad Thai sauce for this recipe or even use a store-bought one.
The other ingredients added to this recipe are standard for a pad Thai, like boneless chicken, peanuts, bean sprouts, and chives. The recipe also has eggs and extra firm tofu for protein, but you can skip adding those.
This Chicken Pad Thai recipe is indeed as easy as it sounds.
28. Watermelon Gazpacho
Gazpacho is best enjoyed on a hot summer day when you are looking for something to help you cool down. Gazpacho is also often made with ingredients that tend to have a natural cooling effect, like watermelon, in this case.
Most of us do not associate watermelon with savory food, especially not with soup. But just how delicious watermelon can be in a soup will take you by surprise, leaving you in total awe!
The base of this Gazpacho is not made with just watermelon but a combination of the refreshing fruit with cucumbers, tomatoes, and even onions. Lastly, the cold soup is topped with avocado, radish, beetroot, cucumber, and onions.
If you are fond of the flavor of watermelon and also want something soothing for a hot day, you need to try recipe out.
29. Eggplant Curry
Like the yogurt-based curry with okra, this is one of those staples from the Indian subcontinent that has a version of its own all across. This recipe for eggplant curry is from Northern India, so the flavors are as per the locally available ingredients.
With this recipe, however, as the preps are a little more intense, it may take longer than 30 minutes to bring it all together. But, it is mainly the eggplant that takes longer to cook. You could make the curry in an instant pot instead of the stovetop to save time there.
Similarly, while preparing the curry base for this dish, you can let the eggplants cook and get soft in the oven. Even though you may have to put in a little extra effort with this recipe, the eventual result is entirely worth it.
Here is the recipe for this North Indian-style eggplant curry.
30. Baked Chicken With Bacon And Tomato Relish
Crispy fried chicken is a favorite, but deep-fried food could be better for hot summer days. If you like crispy chicken but at the same time also want it to be a little healthier, here is a wonder.
This baked chicken tastes like crispy fried chicken without all that excess oil! The cooking process for this chicken is standard. Begin to coat it with seasoned flour, dip in some eggs, and cover the chicken with breadcrumbs before baking.
You can take complete creative liberties with this recipe and add as many seasonings and flavorings as you like to the flour. What brings life to this recipe is the bacon and tomato relish, packed with umami, sweet, and sour flavors.
Make yourself this recipe, and you'll never crave 'fried' chicken again!
31. Hot Dogs With Sriracha Mayo
Like the mighty corn dog, hot dogs are something you can easily enjoy all year long, regardless of the season. This recipe uses bratwurst, but you can even use regular sausages if you want to.
Summers are complete with a hot dog BBQ cookout, and this recipe is perfect for any meal of the day, to be honest with you. The flavors are all tangy, hot, and spicy, reminiscent of summer.
Making these hot dogs is easy; you must start grilling the sausages. Then, you'll have to prepare some sriracha mayo and top your hot dogs with the same, along with some chopped onion and ketchup!
Don't say no to this recipe this summer.
32. Mediterranean Turkey Burgers
My love for burgers is apparent in this list! But on a serious note, burgers are one of the easiest things to make, so they are always part of lists that include quick meal ideas. One such healthy variation of a regular burger is a thick, juicy turkey burger.
Just like the salmon burgers, turkey burgers stand out over regular beef burgers because they are much lighter and more gut-friendly for summer. Moreover, they are packed with protein and are very nutritionally dense.
These burgers also have a Mediterranean kick to the flavor, which makes them stand out even more. The recipe for the burger patties is pretty regular, but once you top them with tzatziki sauce, the burgers get a refreshing new avatar!
Try out these much healthier alternatives to regular burgers with this recipe.
33. Lemony Chicken Salad With Arugula And Quinoa
Nothing beats a freshly chopped salad on a hot summer day. But, often, when making a meal light, we avoid adding carbohydrates to salads altogether, leaving us hungry for more food.
There is a way to keep the carbohydrates at bay and still have a balanced salad by using superfoods like quinoa. Quinoa is one of those foods that, even if you eat just a little bit, you'll feel full for much longer.
This recipe for lemony chicken salad is very well-balanced and filling due to the added quinoa. The salad dressing is also vibrant in terms of flavor since it is made with olive oil and lemon juice, and you can also add some sour cream for richness. The recipe can also be made vegan by switching the chicken with chickpeas!
Here is the recipe to make this healthy and perfectly balanced salad.
34. Grilled Buttermilk Chicken
Did you ever think you'd read the words 'grilled' and 'buttermilk chicken' in the same recipe title? No offense to buttermilk fried chicken, but it is time to move on to something healthier, delicious, and summer-friendly!
This recipe, however, is very unlike a buttermilk fried chicken recipe. That is because this recipe keeps the extra calories at because of the cooking method and because, unlike buttermilk fried chicken, there is no coating of flour.
The recipe is as simple as it can get. You'll need a few chicken breasts, some buttermilk, garlic, thyme, and salt, which is about it. The chicken soaks up the buttermilk very well, which makes it crispy on the outside, with a perfectly soft and juicy texture on the inside! Serve with some bread and a side salad.
Here is the recipe to make yourself a deliciously healthy grilled buttermilk chicken.
35. Spiced Bottle Gourd
If bottle gourd is a vegetable you have never tasted before, you need to try it out, especially in the summer! The reason behind this is that bottle gourd is packed with water and has a naturally cooling effect on the body.
This makes it the perfect vegetable to enjoy in the summer. But, bottle gourd is also not flavor-forward, so you need to pick the ingredients you want to pair with it. Since bottle gourd is a commonly eaten vegetable in the Indian subcontinent, this recipe is a great place to start.
This recipe will give you the attractive nutritional benefits you would get from bottle gourd while being deliciously spicy! The spices and ingredients used in this recipe are standard, and it is pretty alright, even if you miss out on any of the herbs!
You are seriously missing out if you haven't tried the recipe of bottle gourd before, and here is your sign to do so!
36. Garlic Butter Lobster Tails
You may want to feel fancy at any point of the year, regardless of the season. So, I wouldn't be surprised if my family decides to behave like they are utter royalty on a fine summer day! When it comes to food, something that I have always associated with being fancy is lobster!
Lobster has the potential to make you feel fancy, even if you are enjoying it on your couch while wearing pajamas. Lobster is also exquisite in flavor and a light, summery choice of meat to enjoy.
Making a whole lobster may not be everyone's cup of tea. But making lobster tails is pretty easy, which makes them an excellent option for summer dinner. The best part is the tails are already so juicy and flavorful that you only need some butter and garlic to enhance the flavor further!
You don't need to visit fancy restaurants to enjoy lobster meat anymore now that you have recipe.
37. Tuna Pasta With Olive Tapenade
Speaking of fancy meals, here is another utterly delicious and fancy meal to try! Honestly, I am not a fan of tuna, and pasta paired with something like tuna was just a meal I was unprepared for.
Although, once I did try out this pasta dish, I was taken aback by just how delicious the combination is! Along with the tuna, the olive tapenade has a strong flavor, balancing the fishy taste.
Moreover, this recipe is packed with veggies like fresh tomatoes, arugula, and basil, all adding to the flavor and nutritional value. The simple lemon, olive oil, and garlic-based sauce shines through in this recipe and takes barely any time to cook!
Once you try this pasta dish recipe, you may also change your opinion about pairing tuna with pasta!
38. Grilled Bacon Wrapped Scallops
I don't know why, but somehow I would get so repelled by the idea of scallops. Their slippery surface would always make me go, 'NOPE'! One fine day, however, I ordered a portion of assorted seafood that also had scallops, and ever since, I have loved them!
The fact that scallops have a mild flavor makes them stand out, and they are also an attractive, versatile seafood option at the same time. This is why the whole rigmarole of wrapping bacon slices around scallops works so well!
The creator of this recipe has had only lovely experiences with it, and honestly, I go by their word. The grilling process will make the scallops seem perfect for a summer night, and the bacon grease adds a lovely umami flavor!
Get The Recipe From Here – Binky's Culinary
39. Crispy Shrimp Tacos
You may have tried crispy fish tacos or regular shrimp tacos before. But these shrimp tacos are indeed unlike any other tacos! The popcorn-crispy fried shrimp makes such a massive difference to the overall experience of enjoying this taco!
The popcorn shrimp for these tacos can be made in various ways. However, the standard method involves coating the shrimp with eggs and breadcrumbs. Once done, you can fry the shrimp in an air fryer or bake them for a healthier meal.
The choice is entirely up to you! Along with the crispy popcorn shrimp, these tacos are also loaded with the flavors of a delicious cabbage, and, citrus ingredients perfectly true to summer flavors!
Here is the recipe to make crispy shrimp tacos with a delicious slaw at home.
40. Creamy Avocado And Basil Pesto Spaghetti
Avocados are one trend that caught up in the best way possible. Their mild flavor and creamy texture make them a versatile ingredient to work with! One such recipe where I did not expect avocados to work but was surprised was this pasta recipe.
Pesto sauce has to be one of the most common sauce bases used to make pasta, with many versions. Avocado pesto was unheard of, and I worried about the avocados turning the sauce mushy.
But the avocados ended up adding the perfect texture with their buttery mouthfeel. The pesto is also made with classic ingredients like walnuts, basil, and spices, making this pasta taste incredibly delicious!
Make yourself this avocado basil pesto spaghetti, and you'll never go back to a regular pesto ever again!
41. Grilled Tofu Caesar Salad
Caesar salad is one of my favorites, owing to all the textures this salad offers. A classic Caesar salad has to be creamy, crunchy, and chunky, all at the same time. It's a shame that vegetarians cannot enjoy this delicious creation because of the added chicken.
But what if I told you that this beautiful recipe for Caesar salad is not just great for vegetarians, but vegans too?! Yes, this tofu Caesar salad is the perfect vegan alternative to a classic Caesar salad.
The tofu is marinated with a Cajun rub before it is grilled, which gives it a lovely, charred exterior. I know that the dressing for this salad is often made with mayonnaise, but not in this case! Here, even the salad dressing is made with silken tofu, which makes this recipe as vegan-friendly as possible!
Here is the recipe for this delicious and vegan Caesar salad.
42. Chicken, Nectarine, And Avocado Salad
Speaking of avocados added to perk up salads, here is another wonderful recipe for you! Summer salads don't just have to be balanced in terms of nutrition; the whole idea is to make the salads taste as perky as possible by using ingredients reminiscent of the season.
One such ingredient is the great fruit, which is nectarine. Belonging to the peach family, nectarine tends to have a balanced sweet and sour flavor, which is the epitome of what summer flavors should be like!
This salad plays on the same principle and perfectly balances various flavors. The salad also has feta cheese added to it, along with a granola mix, both of which add flavor and texture. Lastly, the salad dressing is light and gives more life to this delicious salad!
Making this chicken, nectarine, and avocado salad with this recipe is just as easy as it sounds.
43. Matar Paneer
This is a traditional North Indian dish that I am sure many of you may have come across at Indian restaurants. Traditionally, in North India, matar paneer is enjoyed during winter. But that is different in the West, where I come from.
Matar paneer is a staple at my home in the summer for several reasons. Firstly, paneer in itself is incredible for the body. Moreover, matar paneer is one of those Indian curry bases not packed with spices and is often much milder than other curries.
Moreover, matar paneer is loaded with heavy cream, another bonus for making the flavor mild. Lastly, it does not take as long to cook, so you wouldn't have to spend much time sweating in the kitchen! Enjoy matar paneer with flatbread or even some hot basmati rice!
If all the above factors sound great, you should try this recipe quickly!
44. Shrimp Fettuccine Alfredo
Whenever in doubt about what to make, you can always throw together a quick pasta dish! My pantry is always stocked with pasta, butter, cheese, and garlic, essentials for a creamy and delicious Alfredo recipe!
Fettucini Alfredo is an absolute classic that quite a few people adore. Although there is a standard recipe to follow, just like any other pasta dish, fettucini alfredo can be customized as you like.
Here, the recipe for fettucini alfredo is simple since it follows a standard sauce preparation approach. The shrimp adds protein to the dish and is light, making this meal a delicious one-pot Italian wonder.
Make this quick and easy pasta treat for summer dinner when you want to stick to basics!
45. Halibut With Lemon Zucchini Noodles
If you want to stick to a healthy route regardless of summer, and by healthy, I mean protein-rich and low in carbohydrates, this recipe is a godsend! The halibut in this recipe is made with just a few ingredients and pairs well with the noodles.
The significant part about this recipe is that if something other than halibut is not your favorite fish to work with, you can switch it out for any other fish or seafood of your choice. It is not the type of fish that is important, but the choice of summery flavors in this recipe.
The fish is seasoned with garlic, olive oil, and pepper and then perfectly grilled. It is served on a bed of spicy and lemony zucchini noodles, which will again be ready. The dish is also garnished with cherry tomatoes, which adds to the overall sour flavor of this dish.
The recipe for this perfect low-carb summer meal is here.
46. Tangy Turkey Tostadas
The beauty of a tostada, a classic Mexican dish, is that it can be enjoyed for just about any meal of the day. But, quite often, tostadas are loaded with heavy ingredients, which may be too much for a hot day.
Luckily, although this recipe is pretty loaded too, it also has every ingredient that is light and will not be too much to digest on a hot day. These tostadas are made with ground turkey, which is one of the best and leanest types of meats out there.
The ingredient list may seem too much, but the recipe can be combined in under 30 minutes. Although the original recipe does not mention sour cream as a garnish, I highly recommend it, as it has a lovely soothing effect that counteracts the spices added to the turkey.
Make yourself these deliciously tangy turkey tostadas by following recipe.
47. Salsa Steak Garlic Toasts
Do you like making fusion food? I think some cuisines fuse very well together, and one of my family's favorite fusions is Mexican and Italian recipes. This recipe for salsa steak garlic toasts pays homage to Mexican and Italian flavors.
Honestly, if you look at this dish, you won't feel like it has any Mexican elements. But the first bite of this toast itself will make you realize the delicious fusion of flavors. These toasts are essentially garlic bread topped with salsa steak.
The amount of ingredients needed to make these toasts are very minimal. To save yourself some time, you can very well use steak bought from a deli and also some store-bought salsa. Then, you need to assemble the toasts, which is about it!
Try out this lovely fusion of flavors with this recipe.
48. Aloo Palak
The name of this dish translates to potatoes and spinach, which are the essential elements of the recipe. Aloo palak, as you may have guessed and probably even tried before, is another classic from the Indian subcontinent.
This recipe is so great for summer because it is loaded with spinach, which is nutritious, light, and cooling in some ways. Besides, aloo palak can be ready quickly, which is another big plus.
This recipe for aloo palak is entirely vegetarian and can also be made vegan if you switch the ghee with vegan butter. The spices added are standard and not overwhelming, and I recommend serving aloo palak with some yogurt and hot parathas!
Make yourself this Indian classic dish with this recipe.
49. Greek Chicken Gyros With Tzatziki
I call a gyro a close cousin of the classic 'shawarma.' This is not just because of the similarities in the two dishes or the fact that they come from the same region, but also because the two stand out in their own way despite the similarities!
I know traditional gyros consist of meat laid vertically on top of an open fire and constantly grilled. But you don't need to worry about any of that with this homemade version of chicken gyros.
The marinade used for the chicken is standard and has subtle flavors. The veggies added to the gyros are refreshing since they contain lettuce, tomatoes, and cucumber. Lastly, the tzatziki sauce is made with a Greek yogurt base, which makes this recipe saucy and delicious.
Here is the recipe to make these simple chicken gyros with tzatziki at home.
50. Grilled Salmon Salad With Avocado And Cucumber Salsa
Salmon is always associated with a fancy meal, and this simple salad at home will surely make you feel as fancy as possible! This dish is not just extraordinary in terms of nutritional aspects but is also bursting with delicious summer flavors.
All the cooking for this recipe is only limited to grilling the salmon! The fish fillet is first coated with a few simple spices and then grilled perfectly on each side for just a few minutes.
This salmon fillet is served on top of a bed of lettuce with a light and simple dressing made with Greek yogurt and just a few herbs. The avocado cucumber salsa brings life to the dish with its soothing yet intense flavor.
If you have a day when you want to feel as fancy as you possibly can, try this recipe out.
51. Strawberry-Turkey Spinach Salad
Speaking of vibrant salads that fit the summer theme, here is another delicious salad recipe! Strawberries are the best summer berries out there because of how well they work in every sweet and savory recipe.
This salad recipe takes full advantage of the versatility of strawberries and has used them in the best way possible. The salad has only one green, which is baby spinach leaves. But you can very well add as many more greens as you want.
The salad dressing for this recipe is made with honey, red wine vinegar, salt, and pepper, all of which create the perfect sweet and tangy flavor. Lastly, you can use leftover turkey or even store-bought rotisserie turkey for protein in this recipe. I recommend adding some toasted croutons to this recipe to count carbohydrates.
Don't miss out on using strawberries to brighten up your summer, and the recipe is the perfect place to start.
52. Lo-Mein
Chinese takeout is another one of those things that only go by season. Chinese takeout will taste delicious regardless of whether it snows outside or the sun's out! But if you want to skip takeout, this recipe is excellent.
With this recipe, you can create a much healthier version of a classic lo-mein that you would get at any Asian restaurant. This recipe is all vegetarian, and the best part is you can skip adding MSG to it.
The noodles are tossed with many deliciously aromatic vegetables, vinegar, soy sauce, honey, and some sesame oil. Although this recipe has no added protein, you can do so by adding some tofu or even chicken.
This recipe will make your kitchen smell like an Asian restaurant, which is undoubtedly pleasing!
53. Cheeseburger Quesadillas
Like tostadas, quesadillas are one of those Mexican dishes that will taste just as great. Regardless of what meal you eat them for. These quesadillas are again a fusion recipe, paying homage to the classic, all-American cheeseburger.
Unlike other quesadillas that tend to have beans added, the only protein source in these quesadillas is ground beef. This dish will taste exactly like a cheeseburger but packed in tortillas instead of buns.
The beef is first cooked, then loaded with mustard, ketchup, Worcestershire sauce, and bacon (because, why not!). The quesadilla has all the elements of a cheeseburger, from the relish to the pickles and good old cheddar cheese.
If you're missing cheeseburgers but also want to try something new, the recipe is perfect.
54. Mediterranean Chicken Patties
Have you ever tried a Mediterranean kofta before? While that is originally made with beef, this recipe is similar in many ways, but just made with chicken. These Mediterranean chicken patties make a great dinner, especially with the right sides.
These patties are healthy since they are made with classic ingredients like ground chicken, herbs, spices, assorted vegetables, and breadcrumbs. The secret to making these patties as juicy as they are is adding Greek yogurt!
Mediterranean chicken patties pair well with a homemade Tzatziki sauce, a light, and tangy yogurt-based sauce. Serve this with a side salad, or use these patties to make chicken sandwiches with a Mediterranean twist!
You can follow this simple recipe to make Mediterranean chicken patties at home.
55. Grilled Chicken Ranch Burgers
If the ranch is one of your favorite dips, and you essentially love pairing ranch with everything possible, I can guarantee you will devour these burgers! As the name suggests, these burgers are indeed pretty fancy.
The chicken is first ground and then mixed with a few spices and other ingredients to form patties. Once the cakes are ready, you can grill them, but make sure not to examine them too much so they remain juicy inside.
The patty is then topped with ranch dressing, lettuce, onions, and tomatoes, which is about it! You can add a slice of American cheese to the chicken patty while grilling and serve these with baked sweet potato fries!
Everyone who loves ranch dressing should try the recipe out.
56. Matar Pulao
Pulao is a classic rice dish from the Indian subcontinent, much milder than other rice varieties you may have tried in the cuisine. Pulao keeps the extra spices at bay, so it is a much better option for summer than biryani, another Indian classic.
Matar is peas, so this rice dish combines rice and peas cooked with just a few spices. The recipe starts by simmering a few dry, whole spices in oil, essentially making this pulao very aromatic.
The rest of the spices added to this dish are mostly limited to black pepper, garam masala, and nothing else. Matar pulao tastes great with several Indian curries or can even be served with a side of yogurt to call it a meal.
Here is a simple recipe to make matar pulao at home.
57. Applesauce BBQ Chicken
Applesauce is commonly used in baking, especially for vegan recipes that need egg substitutes, simply because of its properties. I had just heard of applesauce being used in a savory recipe when I came across this one.
In this recipe for BBQ chicken, the applesauce imparts all the properties that it does in a baking recipe, making the chicken tender. Moreover, the combination of sweet applesauce with a smoky BBQ sauce is a match made in heaven!
The chicken is marinated with black pepper, chili powder, and brown sugar. So, there is an excellent balance of sweet flavors and that unexpected kick of spice! Serve alongside greens and mashed potatoes, or use this chicken to make BBQ chicken sandwiches!
The perfect combination of sweet and spicy exists in the form of recipe.
58. Grilled Mahi Mahi
This list has quite a few mentions of some delicious grilled fish recipes. But if salmon and halibut differ from your favorite, here is another grilled fish variation you can try!
Unlike Monica's Mahi Mahi from the TV Sitcom 'FRIENDS,' called 'Awful Awful,' this recipe makes it exceptionally delicious. There are, yet again, very few ingredients used in this recipe.
The fish is cured with pineapple juice and teriyaki sauce, which give it a lovely sweet and tangy kick. The dish is served alongside tropical fruit salsa, which makes it taste even better!
Try this Mahi Mahi recipe, and you won't ever regret it.
59. Mixed Vegetable Curry
If you have a bunch of vegetables in your fridge that you don't know what to do with, here is a recipe you could try! In India, where this recipe originated, a mixed vegetable curry mainly consists of carrots, peas, and potatoes.
However, that being said, there is no bar on the number or variety of vegetables that can be used to make this curry. Have some mushrooms? Throw them in! Got a bunch of greens lying around? You can add them to this curry too!
Moreover, if you want to add some protein to this recipe, add some extra firm tofu or paneer. Mixed vegetable curry can be served with rice or bread, but the best way to enjoy this curry is with steaming hot parathas!
Here is how you can make this classic Indian curry recipe at home.
60. Corn And Tomato Fettuccine
I was talking about using leftover veggies in your refrigerator, and here is another such recipe for you! This one does not necessarily have all sorts of vegetables added to it, but you can take creative liberties with the recipe.
The fettucini used in the original recipe is whole-wheat fettucini, which makes this a healthy meal. However, if you want, you can switch it out for regular fettucini. The pasta dish is made with four essential vegetables.
These vegetables are peppers, onions, corn, and tomatoes, of course, all of which play an essential role in the overall flavor. Lastly, the pasta dish is loaded with feta cheese, which gives it a lovely salty and cheesy mouthfeel!
Make this recipe for yourself and your family when you are craving healthy pasta.
61. Sausage And Swiss Chard Pasta
Coming to the last recipe of this article, I wanted to end this list with a bang. I am pretty sure that many of you may have tried the combination of sausage and Swiss chard before, and are probably well aware of how delicious the combo is!
But, if you haven't, this pasta dish is surely a sign to do so. This sausage and Swiss Chard pasta recipe uses a classic Italian sausage, but you can switch that out for any sausage of your choice.
The Swiss chard adds an interesting twist of flavor, which is also just a little spicy and robust. Lastly, the chopped nuts and parmesan cheese add texture and also a bunch of flavor, making this dish as delicious as it is!
Make yourself this incredible pasta dish by following this recipe.
Printable Version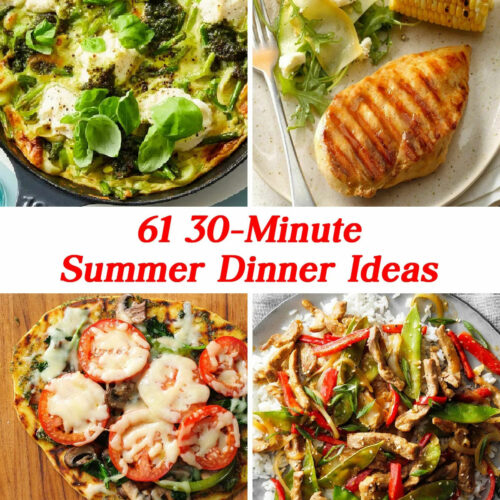 61 Simple 30-Minute Summer Dinner Ideas
A wide range of cuisines offers food that is perfect for summer since they are hearty yet won't make you feel bloated. These delicious dinner ideas include fish tacos, turkey burgers, chicken patties, salmon burgers, and lettuce wraps.
Ingredients
Beefy Lettuce Wraps

Salmon Patties with Avocado Salsa

Cucumber Gazpacho

Instant Pot Pulled-Pork

Grilled Flatbread Veggie Pizza

Creamy Spinach Pasta

Grilled Veggie Skewers with Halloumi

Vietnamese Spring Rolls with Peanut Dipping Sauce

Corn Dogs

Kale and Avocado Salad with Blueberries and Edamame

Skillet Neapolitan Margarita Pizza

Chipotle Fish Tacos

Chicken Shawarma

Grilled Mushroom and Swiss Burger

Ginger Pork-Stir Fry

Spaghetti with Fresh Tomato Sauce

Pan Fried Lemongrass Chicken

Grilled Shrimp Pineapple Skewers

Frittata with Asparagus, Leek, and Ricotta

Crispy Fish

Summer Salad

BBQ Beef Briskets Buns

Salmon Burgers

Vermicelli Noodle Bowl

Okra in Yogurt Curry

Grilled Ham Burgers

Chicken Pad Thai

Watermelon Gazpacho

Eggplant Curry

Baked Chicken with Bacon and Tomato Relish

Hot Dogs with Sriracha Mayo

Mediterranean Turkey Burgers

Lemony Chicken Salad with Arugula and Quinoa

Grilled Buttermilk Chicken

Spiced Bottle Gourd

Garlic Butter Lobster Tails

Tuna Pasta with Olive Tapenade

Grilled Bacon Wrapped Scallops

Crispy Shrimp Tacos

Creamy Avocado and Basil Pesto Spaghetti

Grilled Tofu Caesar Salad

Chicken, Nectarine, and Avocado Salad

Matar Paneer

Shrimp Fettuccini Alfredo

Halibut with Lemon Zucchini Noodles

Tangy Turkey Tostadas

Salsa Steak Garlic Toasts

Aloo Palak

Greek Chicken Gyros with Tzatziki

Grilled Salmon Salad with Avocado and Cucumber Salsa

Strawberry-Turkey Spinach Salad

Lo-Mein

Cheeseburger Quesadillas

Mediterranean Chicken Patties

Grilled Chicken Ranch Burgers

Matar Pulao

Applesauce BBQ Sauce

Grilled Mahi Mahi

Mixed Vegetable Curry

Corn and Tomato Fettuccini

Sausage and Swiss Chard Pasta
Instructions
Select the recipe you want to cook.

Click on the recipe link.

Follow the steps mentioned in the recipe.
Frequently Asked Questions (FAQs)
Are the recipes mentioned in this article suitable for beginners? 
Yes, most recipes mentioned in this article are perfect for beginners. 
Are the ingredients needed for some of the regional recipes hard to get? 
Almost all recipes use ingredients that are now widely available almost everywhere. 
Are any of the recipes mentioned in this article gluten-free? 
Plenty of these recipes are gluten-free and can even be made so. 
Can the vegetarian recipes mentioned in this article be made vegan? 
You can easily switch out some ingredients in any recipe and make it vegan. 
What sort of cuisines have been covered in this article? 
This article has covered several cuisines, like American, Italian, Chinese, and Indian.  
Conclusion
Finding the perfect recipe for summer dinner can often be a task. There are a lot of things out there that can be tried, but it all boils down to whether the meal is wholesome enough to be had on a hot evening.
Luckily, there are plenty of recipes out there that can be tried out, and are perfect for your gut. These recipes have been curated carefully, and all use ingredients that are either in season, or gut friendly for hot days.
There are also an array of cuisines covered in this article, so you can pick something as per the sort of mood you are in. Let me know in the comments which of these recipes you liked the best, and I'll see you with the next recipe list!